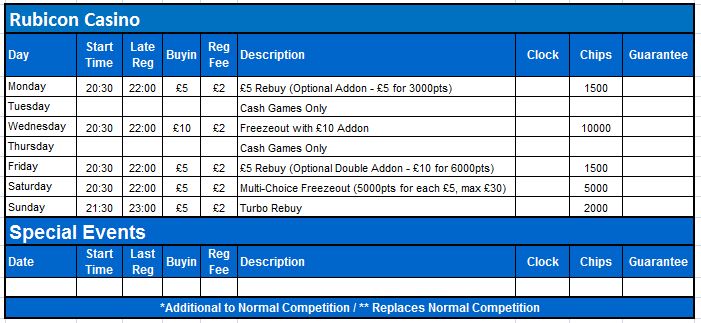 Thanks for this. Been looking for ages for a forum where Rubicon news is posted. Used to have 70+ runners most nights when I used to play there a couple years ago. Would be great to see if get back to those days. Think I'd like to see the tournaments start a little earlier but still it's good to see them advertising.
LOL if only - I went in a few weeks back and got their latest schedule but they are not active on here at the moment.

Lee, who was running the cardroom last year, is now back in the pit.

The schedule I got is current, and completely different from what they are advertising on their own website and different again from what is on Lee's facebook page. Hey Ho.

I remember the venue being packed too, with the likes of the late legendary Spiva showing up for the £5 rebuy on a Friday.

These days they have four tables stuck in the back corner. I was going to play their advertised game at 6.30pm on a Sunday (a £30 Deepstack, I thought) only to find that there was a £5 rebuy at 9.30pm. I didnt stay ..... :-)

Hopefully we will be able to get them interested in being more involved on here. If only a handful of regulars know whats going on at the venue, they wont pick up much new traffic.
Yeah completely agree. Was class when Spiv was there. A guy turns up to our local pub game and says the same about the advertising. One place he reads £30 freezeout but goes in there and sees 10 people playing a £5 game. Really not worth it for me when I'm up early and rebuys last until 10pm or whatever. Would rather see more focused games with better structures advertised in advance.

Hopefully they come back on board.

Permissions in this forum:
You
cannot
reply to topics in this forum