tom@aspers

One Pair

Posts

: 31


Join date

: 2012-11-03


Location

: Milton Keynes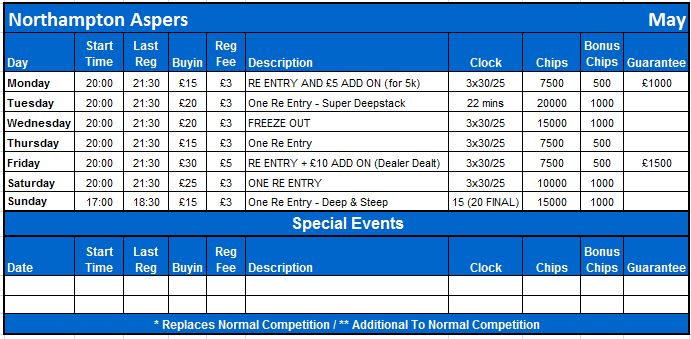 Monday £1,000 GUARANTEED
£15 + 1 Re-entry + £5 Add On
7,500 chips (5,000 chips Add On)
3x30 min followed by 25 min throughout
£3 registration fee, £1 League fee
500 BONUS CHIPS for early registration
Tuesday
£20 + 1 Re-entry Super Deepstack
20,000 chips
22 min throughout
£3 registration fee, £1 league fee
1,000 BONUS CHIPS for early registration
Wednesday
£20 Freezeout
15,000 chips
3x30 min followed by 25 min throughout
£3 registration fee, £1 League fee
1,000 BONUS CHIPS for early registration
Thursday 2,500 (£25) ASPIRE POINTS TO WINNER
£15 + 1 Re-entry
7,500 chips
3x30 min followed by 25 min throughout
£3 registration fee, £1 League fee
500 BONUS CHIPS for early registration
Friday DEALER DEALT £1,500 GUARANTEED
£30 + 1 Re-entry + £10 Add On
7,500 chips (5,000 chips Add On)
3x30 min followed by 25 min throughout
£5 registration fee, £1 League fee
500 BONUS CHIPS for early registration
Saturday
£25 + 1 Re-entry
10,000 chips
3x30 min followed by 25 min throughout
£3 registration fee, £1 league fee
1,000 BONUS CHIPS for early registration
Sunday 5pm
£15 + 1 Re-entry Deep and Steep
15,000 chips
15 min throughout (20 min for Final Table)
£3 registration fee, £1 League fee
1,000 BONUS CHIPS for early registration
All tournaments start at 8pm unless otherwise stated.
Registration open 1 hour before tournament starts.
League will run from Wednesday 1st May until Friday 31st May.
Players receive point for entering and BONUS points for Final table positions.
CASH GAMES
Cash games available from 8pm onwards.
50p-: £25 minimum- £250 maximum
£1-£1: £50 minimum- NO MAXIMUM
£1-£2: £80 minimum- NO MAXIMUM
£2-£5: £200 minimum- NO MAXIMUM
Bad Beat Jackpot is available on all cash games.
Jackpot currently stands at over £7,500.
Terms and conditions apply. Please ask a member of staff in the card room for more information.

Permissions in this forum:
You
cannot
reply to topics in this forum