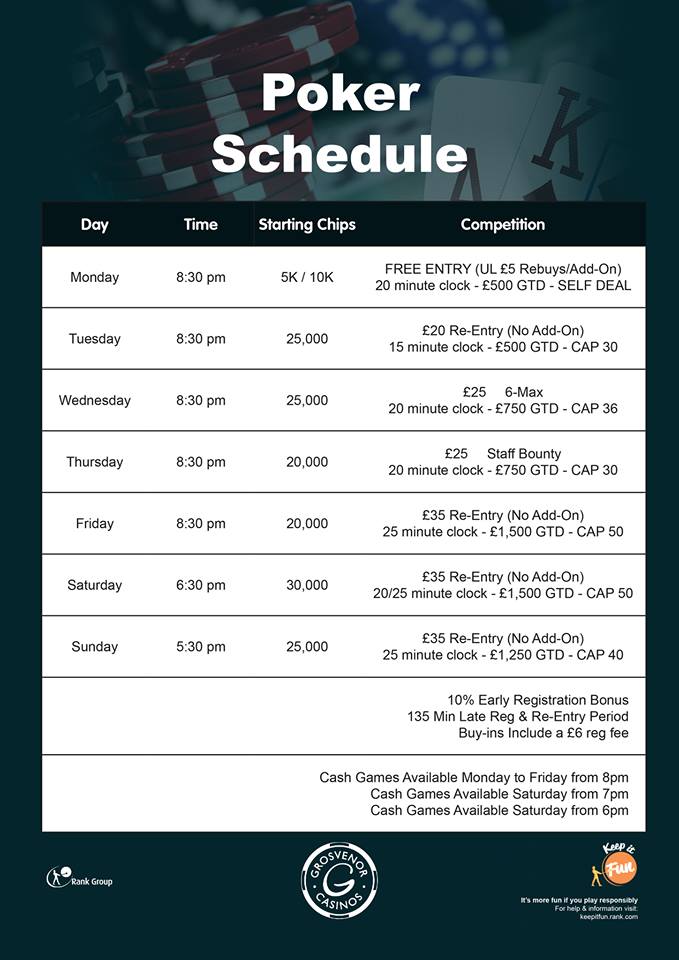 Pretty sure capped fields will not help attendances but hope I am wrong .....
Going back to an 8.30 start time is also a backward step IMO.

_________________________
Running like a drain since 1976.
Assume the dealer shifts start at 8pm? I guess the later start will suit some players and not others. Broadway's demise coincided with a switch from 9pm to 8pm (as well as the ill-fated guarantees and their removal) and they went back to 9pm. Not everyone can get to a casino by 7 - but not everyone wants to plat 25/50 levels either


_________________________
Preparing for glory, by failing until I don't.
It was a 7.30 start before which initially I didn't like as the traffic can still be bad on the M42/M6 to get there for that time and it did seem an early start after years of playing 8.30 or 9.00pm starts. 
However I got used to it after a while and really did prefer it once I got used to it. With 2 hrs until the break and then the break itself players could still rock up at 9.50 pm and get in. On a school night I think all in all in is definitely better to start an hour earlier than reduce the clock or spoil the blind structure.
The trouble Cov is in though I understand their reasoning even though I don't like it. This will help them reduce staff costs and at least offer dealers for cash and the comp each night of the week. Though the soft cap on tournament numbers will also help.
They have to do something as the alternative is the card room actually closes. I've spoken to management their in recent days/weeks and that possibility is more of a realistic option than most people realise.

_________________________
Running like a drain since 1976.
Bink

One Pair

Posts

: 26


Join date

: 2012-03-17

have they been getting anywhere near these numbers for their comps anyway? so do they even need to advertise a cap? i heard there was a new guy there so has he had time to get things turned round or is resortsworld just dragging everybody away from cov?
hmrcustoms

Full House

Posts

: 429


Join date

: 2011-12-07


Location

: Hinckley

A couple things here, why would i now travel to Coventry and possibly not get in before the cap is reached?
If i did play and wanted to make a night of it i.e. i got knocked out (as usual) and wanted the reentry but again the cap was already reached along with a waiting list, why would i bother travelling to Coventry?

Not good in my opinion so my money is going north to you know where. Bigger guarantees for the same buyins and never a bad experience with no dealers or tables available. I know some forum members on here hate this venue but you couldn't find a better place for poker other than Hill street.

If Coventry can't compete or offer something better they don't deserve to survive. Looks like my only visit to the Ricoh will be the for Goliath, i'm even playing the 25/25's elsewhere.

_________________________
God I hate this game but I can't stop playing.

Permissions in this forum:
You
cannot
reply to topics in this forum