As of the 4th of July Grosvenor casino Stoke will be relaunching the cardroom with a completely new poker schedule.
They will also be rewarding all poker players with a £5 match play, for 3-card poker or the slots, everytime you register, and free chip butties for all players at the first break. They will also be running a 12 week league. For every registration they will put £1 in a pot which the top 40 in the league will play off for. So if they average 40 players a night you could be playing for £1920. If the pot reaches £2000 they will match whatever the pot makes next quarter. So there could be £4000 up for grabs. For all you cash game players, the cash table will be rake free till midnight.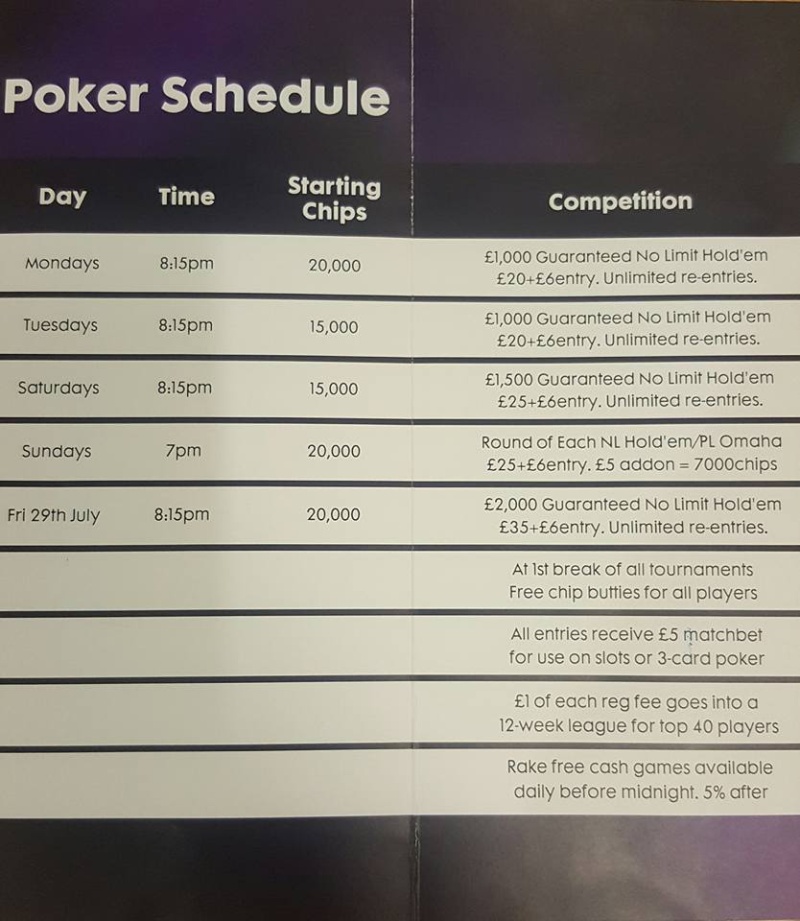 fadethespades

Ace High

Posts

: 12


Join date

: 2013-03-09

When did they last average 40 players a night? Good on them for trying tho.
Darren Sutton

Ace High

Posts

: 18


Join date

: 2016-05-25

Craig is giving it a go.and they are offering free food as well.They are monitoring for 1 month.The aim is to build the comps resulting in a bigger comp towards the back end of the year.Tonight they had 36 overlay £180. But then there is no comp at Genting. As i have said before Stoke no longer has the amount of players they used to and it is hard work getting numbers in,More has to be done to get travelling players in,I no longer travel to Stoke unless i am visiting,as there is so much better value at other casinos,Yet in theory Stoke has a bigger catchment area than a lot of casinos. There is Nothing in North Wales,Chester,Shropshire,Cheshire.I know a lot of players from those areas and i try to Stir em up for bigger comps. 4 of the Oswestry players go as far as Luton and Cardiff to play.The Wrexham ,Chester and Wales lot used to travel and they do not like liverpool and with New Brighton closed down they go to Bolton and Manchester.
Many of the Shrpshire players have travelled to Stoke,but they do see it as a very aggressive place to play and tend to go to the midlands.The 2 casinos some how have to advertise more and get the message out there and give them something to go to.But they have to persist for at least 6 months to see if there is any results.

Permissions in this forum:
You
cannot
reply to topics in this forum